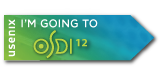 This year's OSDI in Hollywood is entering its final day; as usual, we will be covering the sessions live on syslog.
Continue reading below the fold for talk-by-talk coverage.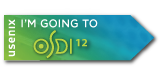 Here we are, reporting back from OSDI 2012 in Hollywood today.
Today's live-blog coverage continues below the fold. Note that some of the coverage is a little spotty due to our blog machine being overwhelmed by the number of requests.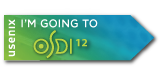 For the next couple of days, I am attending OSDI in Hollywood. However, due to various scheduling constraints on both sides of the Atlantic, I only arrived there at lunch time on Monday, and missed the first session. Fortunately, in addition to my  delay-tolerant "live blog" from the plane, where I read the first session's papers, Derek Murray was kind enough to take some notes on the actual talks. Normal live-blogging service of the talks will be provided for the other days! :)