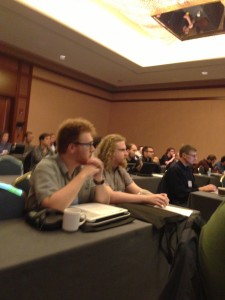 I'm here bright and early at the OCaml 2013 workshop at ICFP with Heidi Howard, Leo White, Jeremy Yallop and David Sheets! Â There's a packed session today with lots of us presenting, so we'll swap over editing this post as the day progresses. Â I also need to pop out to attend a panel on the future of Haskell so I'll be missing the bindings session, sadly!
I'm here at the Commercial Users of Functional Programming workshop at ICFP 2013) with Heidi Howard, David Sheets and Leo White.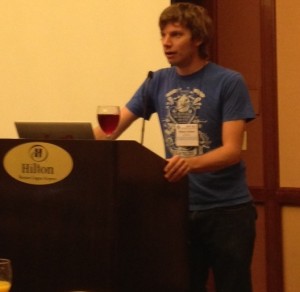 Marius Eriksen and Michael Sperber are co-chairing this year. Functional programming is a hot topic these days, and this year's program reflects the maturing nature of the program. Record number of submissions, and we could easily have made this a multi-day program.  Videos will be available online after the event.
Keynote is from Dave Thomas on what we can learn from the "language wars of the past". Â His talk will cover the business, social and technical ends of building Smalltalk and his "objaholic" experiences with pushing language technology into businesses, where they never had any intention of changing in this regard. Â This worked over the years because it made a material difference to these businesses. Â Dave still uses the K programming a lot at work.